Fuel prices in Europe in May 2023
Estimated price of petrol and diesel fuel in Europe at the middle of May 2023. Information is updated twice a month and should be used for reference only.
Data is collected from various sources: official government websites and fuel company sites. The table below does not claim to be absolutely accurate as fuel prices within a country can vary greatly.
Fuel prices table in Europe
The table shows the average prices in Europe for petrol and diesel and their changes compared with the previous update. To simplify the comparison, the prices in the table are in euro. Prices in local currency can be viewed on a separate tab.
More detailed information on the change in petrol prices can be viewed by clicking on the name of the relevant country.
Here you can see the price of autogas (LPG) in Europe.
As a rule, prices at petrol stations located along highways may turn out to be slightly higher (10–20 eurocents) than at petrol stations next to large shopping complexes. But it should be borne in mind that such petrol stations can be fully automatic, and the queues for them are impressive.
See the petrol prices in the beginning of May 2023.
On the heat map below, you can see the country in which the fuel is cheaper. Green means cheap fuel, red more expensive.
The average price in Europe on LPG for the past month has not change and now is € 1.49.
E5 (Super) is the most common type of fuel in Europe and is found on each gasoline station.
The highest prices are observed in the Netherlands, Iceland and Norway. In these countries, E5 (Super) is 25-30% more expensive than the average for Europe.
The average price in Europe on LPG for the past month has increased at € 0.02 and now is € 1.64.
E5 (Super Plus) is much less common in Europe and is not found everywhere. And in some countries the number of proposals is very limited.
The highest prices can be found in Great Britain, the Netherlands and Norway. The difference with the average European price in these countries can reach 35-40%.
The average price in Europe on LPG for the past month has decreased at € 0.01 and now is € 1.39.
B7 Diesel fuel, as well as E5 (Super) fuel, is widespread in Europe and is found at every gas station.
At the same time, in about a quarter of European countries, B7 Diesel fuel is more expensive than gasoline.
New labels at europian petrol stations: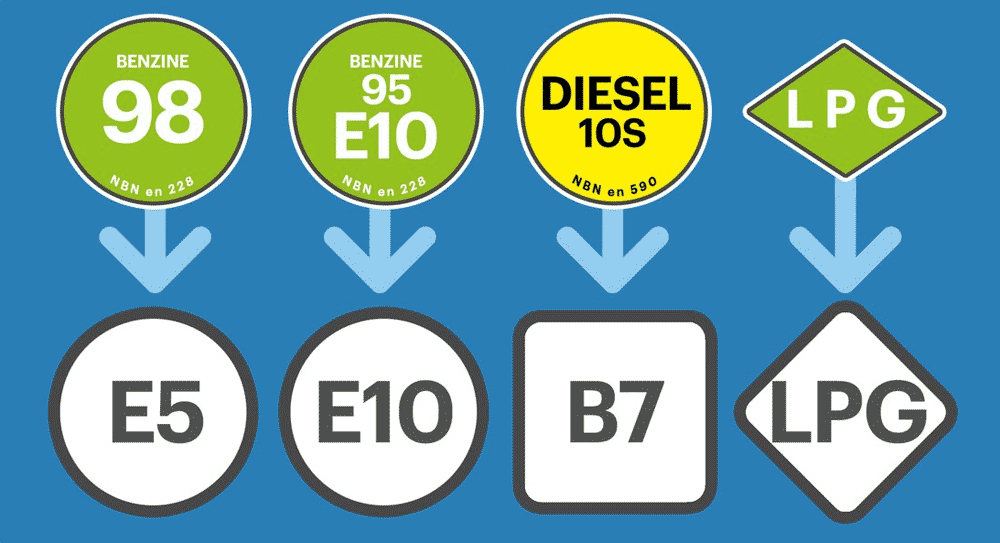 The trends in average fuel prices
Below are the trends in the average prices of fuel in Europe over the past three years.
You can select the desired time range on the chart by selecting it with the mouse or turn on/off the corresponding chart by clicking on its name below.